#TogetherForPreston - thoughts from Councillor Peter Kelly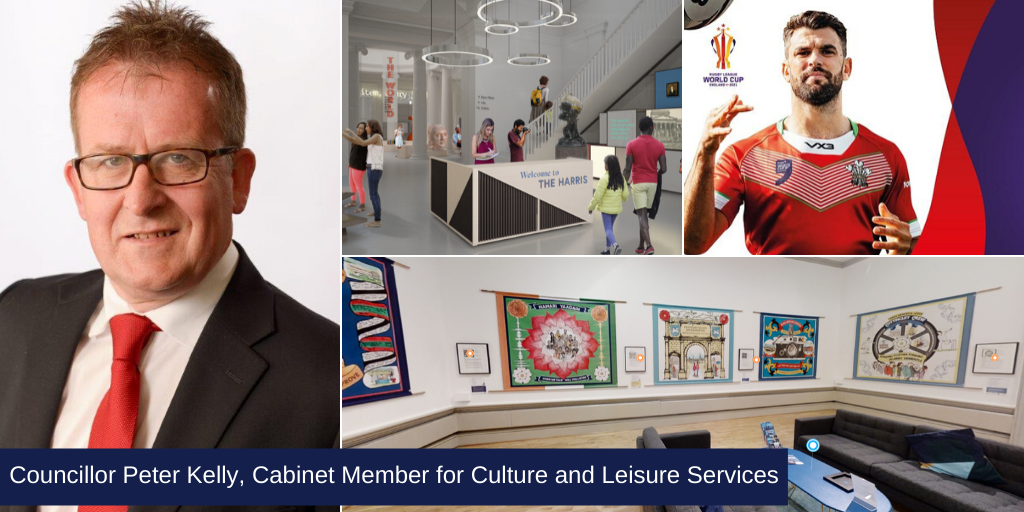 #TogetherForPreston focuses on the role of the Culture and Leisure services in Preston and Councillor Peter Kelly...
During these challenging months, The Harris although it has been closed has been able to showcase its amazing artwork and exhibitions through virtual tours.
One feature of the virtual tour in June was the exceptional selection of art from the Courtauld Gallery in London, which featured works from the 17th century to the present day. These virtual tours were very popular and offered a much needed escape for everyone during lockdown.
Over the past few months, staff at The Harris have been inviting artists, designers or creative enterprises that live and work in the North West region to submit their work to become a supplier to the Harris museum shop for when it reopens. As the shop is in situated in its prime location, this artwork will be seen by all visitors to the Harris and available to buy, such a great opportunity for any budding artist or designers.
Another exciting update included the project team announcement for the Re-Imagining the Harris Project, following last year's announcement of National Lottery development funding.
Working with the project partners we were able to share the first concept design plans for consultation for the ambitious project. Feedback has been sought from members of the public which will inform the next phase of bringing visitors a fully refurbished cultural and community hub at the Harris and the UK's first blended museum, art gallery and library.
I am very proud to be able to work on this exciting project and pleased with the continued progress through these challenging times.
As The Harris is such an iconic building in Preston, we felt it hugely important to show our solidarity with those protesting racism and injustice worldwide by being lit up purple.
Also we were able to show our appreciation to the NHS and Key Workers with an installation of a banner on the front railings, to express everyone's thanks to the people who have helped and given so much during this time.
Another exciting announcement for Preston came with the Rugby League World Cup 2021 (RLWC2021), tournament organisers deciding that Preston will be the training base for Wales' men's team.
With the tournament coming to England next year, Preston will act as the training base for the Wales men's team. Bringing many new people to the city and the exciting atmosphere as they look to make their mark on the biggest stage of all.
Even though many of our amazing events have had to be cancelled or postponed this year, next year is something to look forward too. With the Rugby League World Cup taking over the city, a full programme of events on the Flag Market and the amazing weekend of Lancashire Encounter returning in September 2021 there are many dates for your diary!