#TogetherForPreston - thoughts from Councillor Freddie Bailey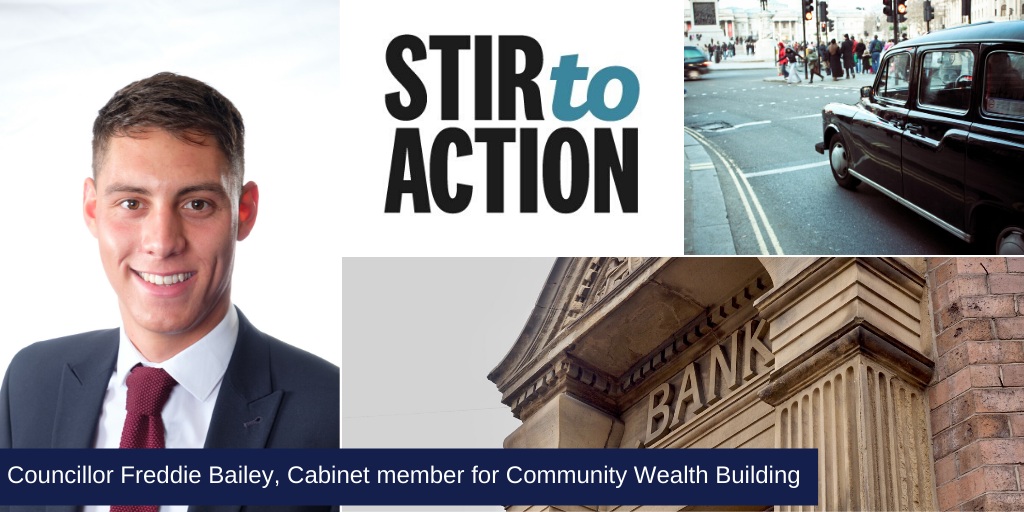 #TogetherForPreston focuses on the role of Community Wealth Building and Councillor Freddie Bailey throughout the pandemic and beyond...
Never before has the conversation around Community Wealth Building been as important as it is now.
The impact on the economy of the pandemic and "lockdown" is still unknown and yet clearly significant. Despite the optimism surrounding the reopening of bars, restaurants, shops and tourism, many people are facing an uncertain future with redundancies already announced. It's vital that we move forward in a different direction and embrace a new approach to the economy.
During the last number of months, we have progressed some key areas of our Community Wealth Building agenda, with some exciting projects and collaborations coming to fruition.
It has been a long-standing ambition to establish a new way of banking in the North West that places people over profit and uses local wealth to support local growth. To this end we're delighted to be working with Liverpool and Wirral councils to establish a North West Bank.
In May we took a huge step with the Financial Conduct Authority approving North West Mutual LTD. This is an important milestone on a journey that'll see our communities investing in the real economy with support given to local people and business who may have otherwise struggled.
Elsewhere we're thrilled to be working with Stir to Action on a project to champion alternative business opportunities for some of our most badly affected communities. Preston has always been proud to be multicultural and to celebrate everything out diverse communities bring to one another.
This project will engage directly with our communities, including those from BAME and migrant backgrounds. This will encourage communities to consider alternative approaches to business, adding greater depth and variety to our economy in a locally focussed and sustainable way. Stir to Action have an incredible reputation for championing such projects around the world and it's a privilege to be starting on this journey with them.
We're also pleased to be playing a role in a local cooperative project with local taxi drivers. This is the first cooperative to benefit from funding from the Open Society Foundations project that we are delivering in partnership with the University of Central Lancashire, with support from the Preston Cooperative Development Network. This project will benefit taxi drivers in the region and work in closer partnership for a fair and sustainable future for such a vital industry.
There will be many challenges on the road to economic recovery. But this is an opportunity to take a fresh look at our economy and how we pull together and work as a community. Through community wealth building we have an opportunity to readdress the economic balance in our community and to put the people of Preston first. This is an opportunity we will grasp with both hands.