#TogetherForPreston - thoughts from Councillor Peter Moss, Deputy Leader and Cabinet Member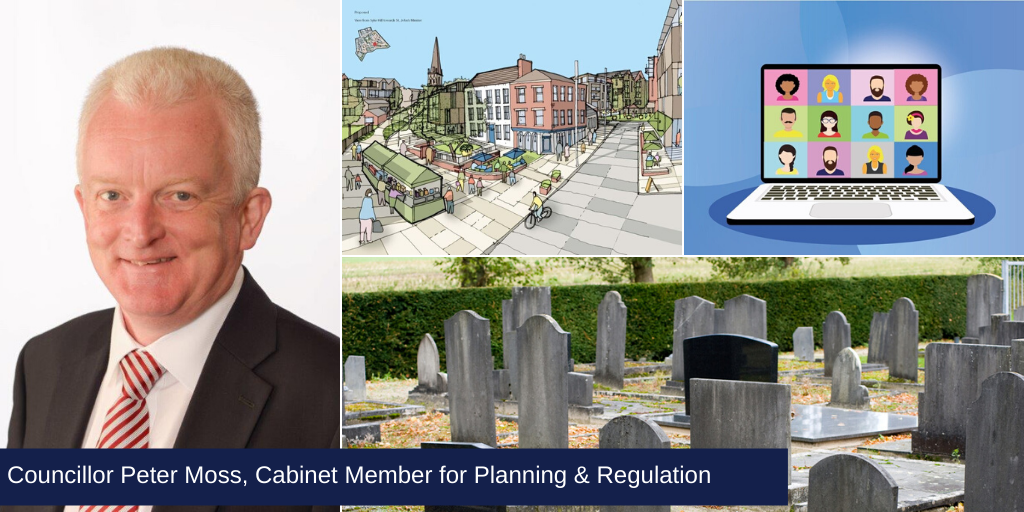 #TogetherForPreston highlights Planning & Regulation and the role of Councillor Peter Moss as Deputy Leader and Cabinet Member...
"We are in unprecedented times...". This is a phrase we've all heard a lot lately. And we are.
But the wheels at the council haven't stopped turning. We continue to receive planning applications that have been considered in the usual, stringent way. The Planning Committee in June made a little bit of history by being the first 'virtual' committee the Council has ever run. It was a success thanks to the hard work and support of officers behind the scenes.
We have also implemented processes to deal with requests from developers to extend construction site working hours in response to the Government's recent change in legislation. Allowing building work to catch up in this way helps with our local economic recovery.
The Environmental Health teams have also been very busy in all sorts of ways - the food team have supported and advised businesses to diversify and offer takeaway; some team members were re-deployed and then trained to assist those working at the Cemetery and Crematorium as demand on this service sadly increased during the pandemic. However, good pre-planning, operational management and dedicated, compassionate staff meant we were able to build in much more capacity to maintain a level of service that met the additional demands of Covid 19.
Other significant work from the Environmental Health teams includes Pest Control technicians have continued visiting peoples' homes (no one wanted to be in lockdown with uninvited guests of that nature!); offering business advice and support from the start of the pandemic has been important - monitoring ever changing Government guidelines on which businesses were closed, which were open, which could operate in a different or new way, and this work continues now the city is starting to re-open its doors. Businesses large and small needed advice on a range of issues including Covid19 safety measures, PPE issues and advice for licensed premises and taxi drivers.
City Centre investment for the Stoneygate area of Preston has also moved on recently. The 15-year vision and regeneration framework aims to create an urban village and deliver 1,600 homes, as well as bring back into use a number of empty and derelict buildings in the underused part of the city. Enhancing the public realm, the connections to Cardinal Newman College and the area around Arkwright House and St John's Minster will benefit the whole of the city centre, along with enhancing cycling and walking routes.
I do know that one building of which all Prestonians are concerned about and creates lots of interest is the Old Post Office. Although this is very much a private sector development, behind the scenes the Council have continued to engage with the investors, who have confirmed that works have recommenced and they are moving towards the construction being completed late March 2021.
Far from applying the brakes during this crisis, Councillors and staff at all levels have continued to positively deliver the vitally important services residents need and steered the city in the right direction as we focus on working collaboratively with investors, business and other partners for the future benefit of Preston.