#TogetherForPreston - thoughts from Councillor Matthew Brown, Leader of Preston City Council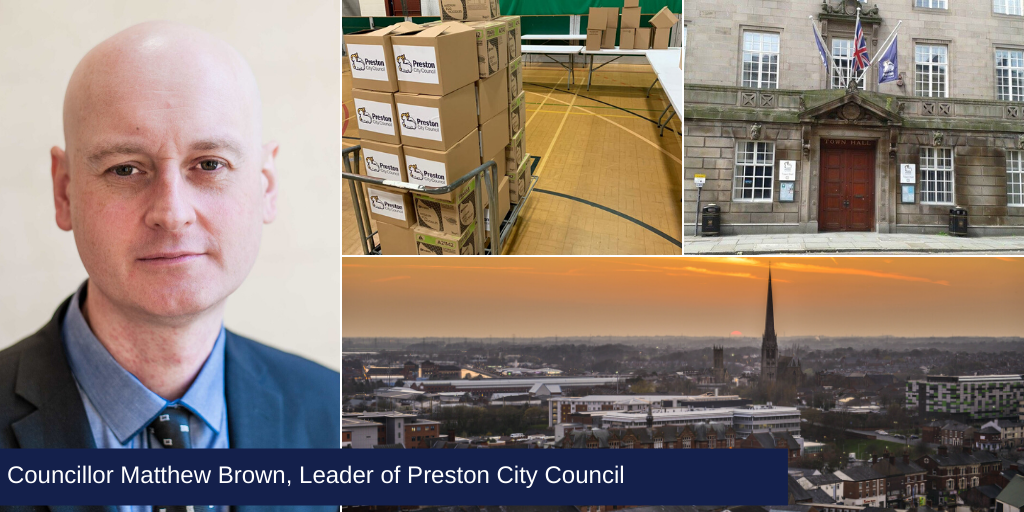 #TogetherForPreston begins with thoughts from Councillor Matthew Brown, the Leader of Preston City Council who has shared his pride at communities coming together to support one another throughout as well as getting out into the community and supporting the people of this city
More than 100 days ago life changed quite significantly for all of us - introducing us to a new normal that still does not feel very comfortable or normal for the majority of us. The last few months have been defined by social distancing, supporting key workers and fighting an invisible enemy on a global scale.
I have been heartened by the significant response from our residents and communities, of all faiths, backgrounds and representing all walks of life. We have seen wonderful local initiatives from community and faith groups, schools and businesses working to help their neighbours, donate to the NHS and other various forms of practical support.
For Preston City Council it has not been business as usual, it has - and continues to be - business as never before. Despite the doors of Town Hall being closed during the peak "lockdown" period, our teams have been working hard to delivery priority services and support residents throughout this situation.
As a Category 1 Responder in emergency situations we work closely with partners from across the county to protect and support our residents.
All of our staff are key workers and many were required to redeploy to work in areas of greatest urgency and priority.
Over the next week we will be highlighting and showcasing the work that we have been doing, on the frontlines as well as behind the scenes. This will encompass new areas of work that we have taken up and implemented such as the locality hub and business grants as well as essential frontline services from waste collection to pest control and behind the scenes support for our residents and communities.
We have also supported our business tenants through rent rebates and established a two way dialogue with representatives of faith and our diverse communities through the pandemic.
This time has been, and continues to be, hard for all of us - the work is far from over.
We still must protect ourselves and others by following Government guidance, washing our hands regularly, giving each other space and taking necessary precautions. We continue to have concerns about the inequalities and vulnerabilities this pandemic has highlighted, including domestic abuse, increased health risks for some of our communities and financial strain due to lack of income and support.
Preston City Council continues to be committed to supporting our residents, communities and businesses throughout the recovery period as best we can.
This includes playing a central role in building social, economic and environmental justice in a spirit of collaboration across Preston.
Although the work is not over, I am proud of what we have been able to achieve so far. And I know how much of that is because of the support and collaboration we have received from partners, community groups, the faith forum, businesses and individuals.
I am proud of our city and how Preston has worked together for benefit of everyone.