Preston Markets - Box Market (for rent)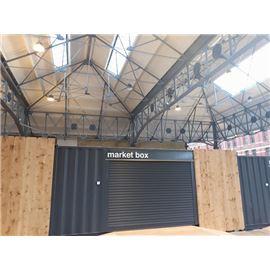 The innovative Box Market forms part of the overall Preston Markets offer which includes a brand new Market Hall and refurbished Outdoor and Second hand Markets. Located under part of the 1920s Fish Market Canopy these upgraded shipping containers provide an unusual place to trade your wares from.
The use of containers is predominantly non-food as there is not a mains water supply or drainage. A variety of access and frontage designs are available with the ability to customise the space to suit.
All shipping containers come pre-boarded with a distribution board, ready for power/lighting to be connected per your requirements.
Applications requesting splitting containers will be considered as will applications from collectives and collaborations.
Address
Preston Markets - Box Market
Earl Street
Preston
PR1 2LA
Area
138 square feet total approximately.
Rent
The rents start at £76.50 + VAT per month including service charges.
This is at a discounted rate available for a limited period and applies to a one shipping container measuring 30 square feet.
Utilities would be billed separately.
Lease term
Three or six years.
Life of the Box Market
The Box Market is an interim solution which will be tested over three years and any long term decision on its future will depend on how successfully it has traded and any emerging alternative uses of the Fish Market canopy.
What's available?
Due to high demand there are currently no Box Market units available.
If you would like to register your interest if any become available please contact the Markets Office at markets@preston.gov.uk.
Arrange a property viewing
Viewing Preston Markets and the stall is highly recommended.
To book an appointment please get in touch with the Markets Office on markets@preston.gov.uk.
How to rent the property
To rent a container in the Box Market please complete the online application.
Apply for occupancy of the Box Market
Map address for Box Market
Box Market, Earl Street, Preston, PR1 2LA.