Electric vehicle charging points - Avenham car park

An electric vehicle charging point is a place for electric car owners to charge their vehicle with electric energy.
Where are the charging points located?
The charging points are located on the ground floor near to the disabled bays and the Syke Street exit.
There are 2 double EV charging points, capable of providing up to 7.4KW charging rates at each of the 4 sockets.
The four bays are coloured green with the sign 'For Electric Vehicle Parking Only Whilst Charging'.
How to use the charging points
To use the charging points you must do the following:
Register with the Polar charging network
To register:
1. Download the Polar Instant app:
2. Follow the simple instructions to register and set up your account. You will need to add a minimum of £10 to your account using your credit/debit card.
Charging your vehicle
1. Place your Polar smart card or Polar key fob on the red target above the screen to display a green tick.
2. The screen will tell you when to connect your vehicle at which time connect your cable to the appropriate socket.
3. Once the unit has recognised that you have connected your cable, the unit will lock your cable into place and the lights will change from flashing blue to green.
4. In the bottom corner of the screen, it will state 'charging' and the top corner of the screen will display the energy provided.
5. To finish charging, present your Polar smart card or Polar key fob to the red target. The charging session will end and you will be prompted to remove the cable.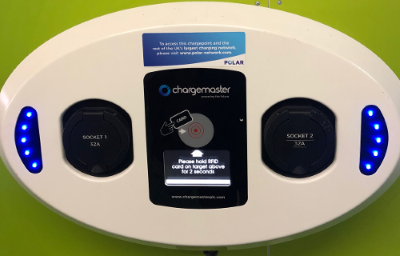 How long can you use the charging points for?
The electric vehicle charging points are limited to 4 hours charging with no return within 8 hours to any charging point in this car park.
How much is it to charge your vehicle?
It is free to charge your vehicle. However, you will need to pay for parking.
If you do not have a parking permit, you can either pay for and display a ticket from the Pay and Display machines or pay for a virtual stay.
For parking costs see Avenham car park.
Parking fines (Penalty Charge Notices)
If you stay longer than four hours at the charging point, return before 8 hours or fail to pay for a parking ticket, you may receive a PCN
To pay or challenge a Penalty Charge Notice please visit parking fines (Penalty Charge Notices).
Map address for Avenham car park
Avenham car park, Syke Street, Preston, PR1 3XA.